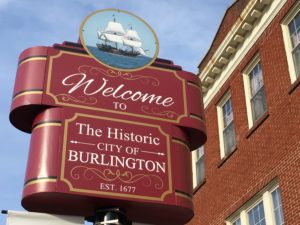 The Burlington Quaker Meeting House and Center for Conference is within an easy walk to riverside park, art galleries, a lovely riverside promenade, and history museums. Take the time to enjoy Burlington.
The City of Burlington has a long and rich history. Established in 1766 on the banks of the Delaware River, "Bridlington," its early name, was the capital of West Jersey. The city and many of its residents played important roles in the early history of the young United States. Among the many notable "firsts" represented in the city's history are St. Mary's Episcopal Church, the first in New Jersey; the oldest pharmacy in continuous operation in New Jersey; the oldest fire company in the state operating under the same name; The Library Company of Burlington was chartered by King George II and has been in operation ever since; the first newspaper in New Jersey – the New Jersey Gazette – was published here. Ulysses S. Grant's family lived here during 1864 and 1865, and James Fenimore Cooper was born here.
Take a walk though Burlington and feel its history and charm. There is much for the history student to see and learn and there is much here for lovers of "small town America," too. High Street provides the shopper with many gems, the antique buff with many treasures, the art collector with many opportunities, and the gourmet with a variety of taste treats.

View Historic Burlington NJ in a larger map