For more images of each room, see the Photo Gallery page.
Nestled in a tranquil community, the Burlington Quaker Meeting House and Center for Conference is located in historic Burlington City on the banks of the Delaware River.
It is a 19,000-square-foot gathering place in an enviable location for tourism and for hosting conferences, corporate meetings, workshops, weddings, reunions, retreats, school events and day or overnight events.
It is in easy commuting distance to Trenton, Princeton and New York City in the north or Camden or Philadelphia in the south by car or train.
The facility is wheelchair accessible from the basement to the third floor.
Fees for all of the facilities are tailored to the manner in which each group uses them.
Ask for a list of all amenities.
---
First Floor
Meetingroom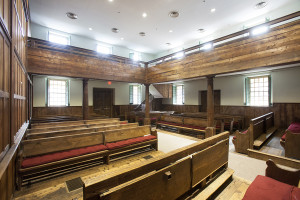 This is the original meetingroom built in 1783. Up to 200 can gather in this room, which is rich in Quaker history and simplicity. The bench seats are cushioned, there are windows on 2 sides and a balcony with rising tiers of seats. The acoustics are good – speakers do not need a microphone, although there is a lectern and microphone available.
---
Ockanickon Hall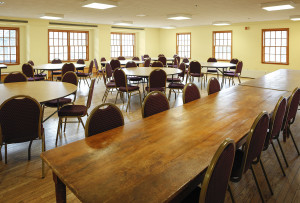 This spacious, multi-purpose hall can accommodate up to 120 people for dining, meetings, live music, dancing, exercise and more. Arrange and use it as you'd like. There are both 6-foot round (10-person) and 6-foot rectangular tables for use as well as two 11-foot long hardwood tables for meetings, materials or buffets. With its hardwood floor and acoustic-tile ceiling, voice is neither dampened nor echoes. It is lined by windows with sheers on two, off-street sides, providing light, quiet and privacy. Four window seats provide cozy areas for conversation or quiet reflection.
---
Kitchen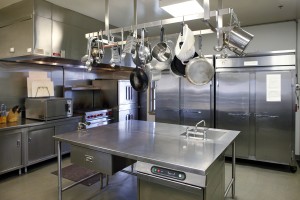 The large commercial kitchen is fully equipped to meet the food service needs of each group. It contains a commercial stove, two ovens, a steamer, microwave, restaurant-size refrigerator and separate freezer and dishwasher. There is also a number of small appliances, cookware, bakeware, serveware and white Corning Pyroceram dinnerware. Use of the kitchen with utilities is available through separate arrangements at the time of rental.  Here are links to caterers and wedding vendors.
---
Boardroom
The Boardroom can seat up to 15 people, 12 of them around an 11-foot hardwood table. Windows on 2 sides allow participants within to be connected to activity outside the room.
---
Hendrickson Room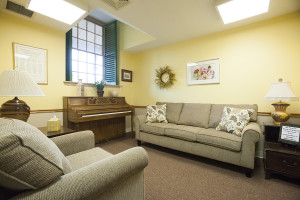 The Hendrickson Room is a perfect setting for a personal discussion or quiet time. It can seat up to 7 people, 3 of them on a couch and 1 in an armchair. It houses a console piano.
---
Second Floor
There is an elevator to the 2nd and 3rd floors.
Seminar Room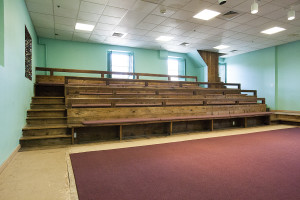 This room is part of half of the balcony of the original meetingroom built in 1783.  This unique area with rising tiers of seats is designed for lectures, presentations and performances.  It includes a large projection wall and good acoustics. It can seat up to 100 people.
---
Second and Third Floor Dormitories
Dormitories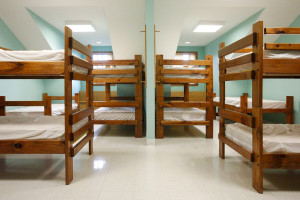 The second and third floors provide dormitory-style sleeping facilities for overnight rentals and can sleep 88 people. On each floor, there is a large dormitory, semi-private room, bathrooms and showers. Each large dormitory can be divided by pocket doors into smaller sleeping areas — two on the 2nd floor and three on the 3rd. Each smaller area has its own access to the hallway. Across the hall from each large dormitory is the semi-private room which includes a small sitting area. Also across the hall are separate men's and women's bathrooms and showers, 2 to 3 of each.  Unique to the third floor because of its dormers are 8 single beds, good for those afraid of hitting their head on the top bunk or who get up often in the middle of the night.
---
Basement
There is a chair lift for wheelchair access to the basement.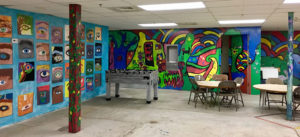 Also for rent, the Youth Recreation Room is a large, open space that is perfect for arts and crafts or youth get-togethers.  Arrange and use it as you'd like.  It includes 2 round craft tables with folding chairs, foosball table, ping pong table, air hockey table, and lounge area with 2 couches and 2 armchairs, as well as a utility sink and a bathroom.
---
Outside Tent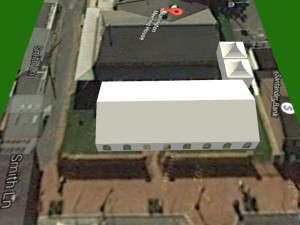 The Meeting House has a usage fee agreement with Tents for Rent. This diagram illustrates that a 40×80′ tent can fit between the Meeting House and High St.
---
Free Parking
All parking is free. There is 1 ADA Van Accessible space and there are 4 regular parking spaces on the property; public spaces on either side of High St.; and 230 spaces in a public lot accessible by the driveway across from the Meeting House.
---
Conference Amenities
Free Wi-Fi
Lectern with Microphone
Podium with Tilted Top
Conductor Stand
Dry Erase Boards
TV and VHS
Movie Screen
Digital Projector
Card Tables