Nestled in a tranquil community, the Burlington Quaker Meeting House and Center for Conference is located in historic Burlington City on the banks of the Delaware River.
It is a 19,000-square-foot gathering place in an enviable location for tourism and for hosting conferences, corporate meetings, workshops, weddings, reunions, retreats, school events and day or evening overnight events.
It is in easy commuting distance to Philadelphia and New York City by car, bus or Light Rail as well as the New Jersey Pine Barrens, Wharton State Forest, and New Jersey shore points.
The entire facility is fully ADA accessible.
Fees for all of the facilities are tailored to the manner in which each group uses them.
The Application and Fee Usage Schedule above includes general rental information as well policies concerning payment, alcohol, caterers, and wedding vendors.
---
First Floor
Meeting for Worship Room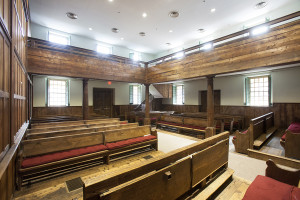 This is the original meeting room built in 1783.  Up to 200 can gather in this room, which is rich in Quaker history and simplicity.
---
The Ockanickon Room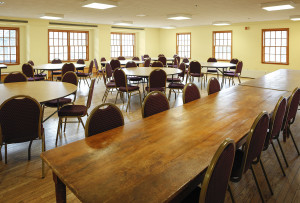 This spacious, multi-purpose room can accommodate up to 120 people for dining, dinner meetings, wedding receptions, banquets and more.  Window seats line the room providing a cozy area for conversation or quiet reflection.  The view of the park-like cemetery includes the burial site of Chief Ockanickon of the Lenni-Lenape tribe as well as a 400-year-old sycamore tree.
---
Board Room and Library Meditation Room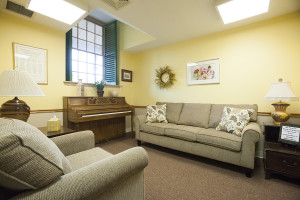 These two rooms provide a more intimate setting for use by groups of 10 to 15 people.  The window glass view from the boardroom allows participants to be connected to activities happening outside of the room. The library is a perfect setting for reading, quiet reflection, meditation or discussion. Each room rents separately.
---
Kitchen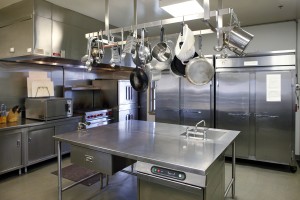 The large commercial kitchen is fully equipped to meet the food service needs of each group. It contains a commercial stove, two ovens, a steamer, microwave, restaurant-size refrigerator and separate freezer and dishwasher.  Standard rental of the kitchen does not include the use of the utilities.  Use of the kitchen with utilities is available through separate arrangements at the time of rental.  A list of caterers is available as part of the Application packet.
---
Second Floor
Seminar Room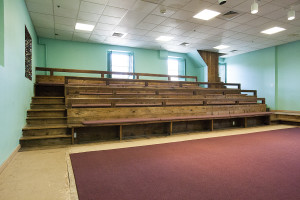 This unique area is designed for lectures, concerts, presentations and performances in an amphitheater setting.  This space accommodates up to 100 people. There is an elevator.
---
Second and Third Floor Dormitories
Dormitories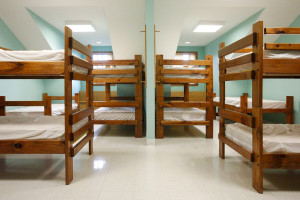 The second and third floors provide dormitory-style sleeping facilities for over-night rentals.  Total occupancy is 75.  A semi-private room on the second floor for chaperones includes a small seating area and desk. The spacious bunk-style rooms are partitioned into two sleeping areas on each floor.  Bathrooms and showers are also located on each floor.  Rental of overnight accommodations does not include towels, pillows, sheets or blankets. There is an elevator.
---
Basement
Additional rental space in the basement includes a Youth Recreation Room that is accessible from the dining room.  It is a large open room that is perfect for arts and crafts or youth get-togethers.  It includes ping-pong and foosball tables, utility sink, lounging area and bathrooms. There is an elevator.
---
Tent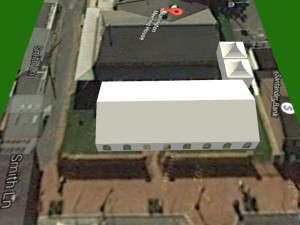 The Meeting House has a usage fee agreement with Tents for Rent. This diagram illustrates that a 40×80′ tent can fit between the Meeting House and High Street.